Frédéric Chopin was a renowned Polish composer and virtuoso pianist of the Romantic era. He was born on March 1, 1810, near Warsaw, Poland, and showed prodigious musical talent from an early age. Chopin's musical education began in Warsaw, where he quickly gained recognition as a child prodigy. In 1830 Chopin left Poland and settled in Paris where he spent much of his professional life. He became a central figure in the city's vibrant artistic and intellectual circles, and his compositions reflected the emotional and expressive characteristics of the Romantic movement. 
Chopin's ability to convey a wide range of emotions through his music, from intense passion to delicate lyricism, is one of the hallmarks of his style. His works often reflect his personal experiences as well as the political turmoil of his time. Chopin's health began to decline in the 1830s, and he struggled with chronic illness throughout his life-time. He died in Paris on October 17, 1849, at the age of 39. His legacy endures through his influential and innovative contributions to piano music, and he is remembered as one of the greatest composers of the Romantic era.
Maurizio Pollini is an Italian classical pianist born on January 5, 1942, in Milan, Italy. He is widely regarded as one of the greatest pianists of his generation. Pollini's musical talent became evident at a young age, and he began his piano studies at the Milan Conservatory at the age of nine. His initial success came in 1960 when he won the International Chopin Piano Competition in Warsaw at the age of 18, which catapulted him to international fame and recognition.
Recorded in April 1960 and released on HMV the same year, Pollini's interpretation of Chopin's "Piano Concerto No. 1" is one of his earliest recordings and remains arguably the greatest rendering recorded. Pollini's marriage of youthful impetuosity, technical perfection and an understanding of Chopin's world well beyond his then-youthful years combined with his delicate touch and nuanced phrasing capture the intricate emotions embedded in Chopin's music. 
Cut directly from the original analog master tapes, through our unique all valve 1965 Ortofon / Lyrec vinyl cutting system in stereo. No equalisation, compression or any other processing was added during the cutting process.
All sleeve artwork authentically letter-pressed and hand made.
This edition of 300 copies is priced at £395.00 UK pounds. Order here.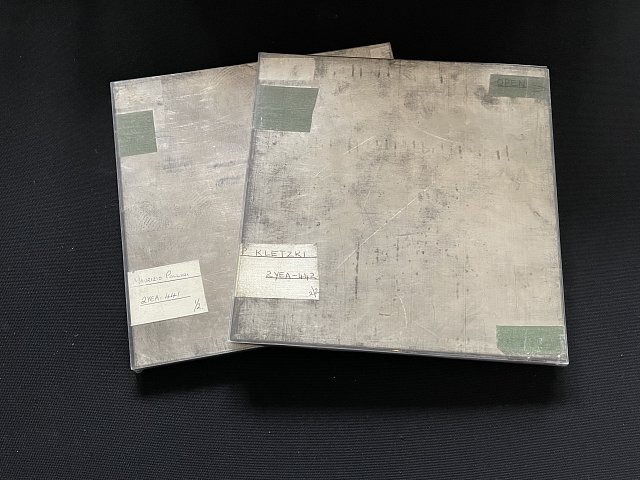 Original Master tapes.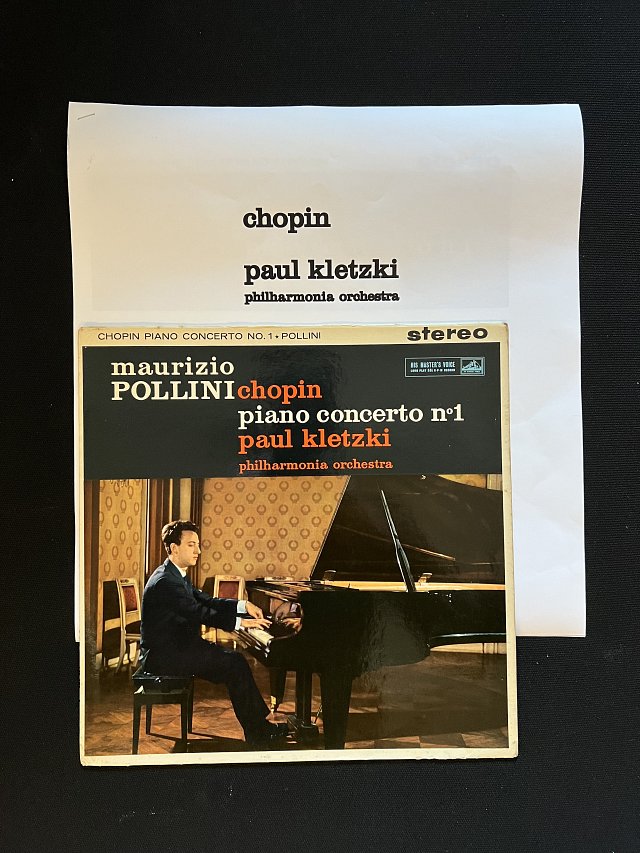 Letter Press (orange type) proof and original sleeve.
Letter Press (top panel) proof and original sleeve.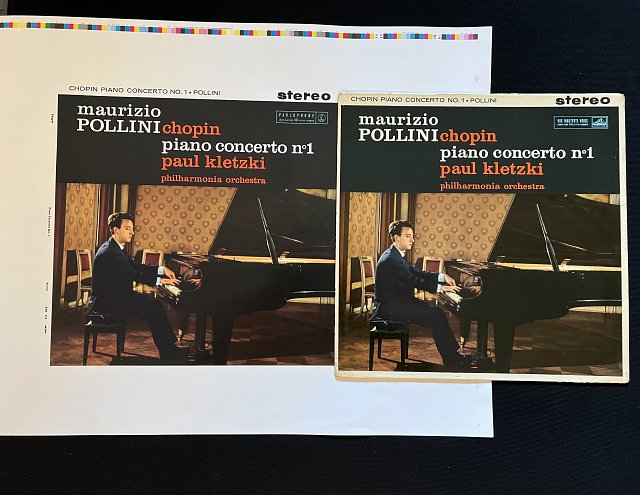 Letter Press proof and original sleeve.
Letter Press (rear) proof and original sleeve.